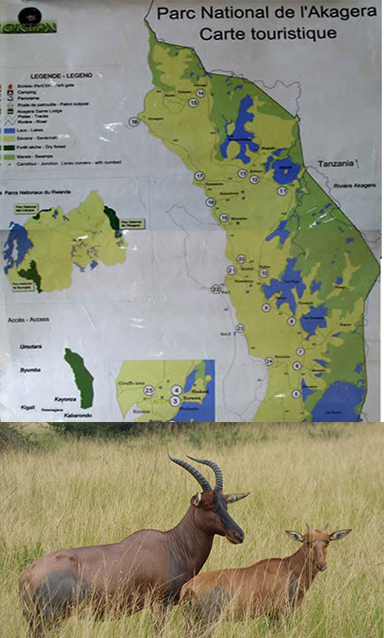 Akagera National Park is located in the northeast of Rwanda along the border with Tanzania about two hours' drive from Kigali. Although founded in 1934, in 1997 the park was reduced in size from more than 2,500 km2 to its current 1,122 km2. The park has beautiful and eco-friendly Accommodations fitted in the park which range from Luxury, Budget and Mid-range.
It is named after the Akagera River that flows along its eastern boundary and feeds into a labyrinth of lakes of which the largest is Lake Ihema. The forest-fringed lakes, papyrus swamps, savannah plains and rolling highlands combine to make Akagera among the most scenic of reserves. It has a wide range of biodiversity part of which is a protected wetland.
Species in Akagera National Park
It's home to a variety of game species as well as species restricted to the papyrus swamps such as the Sitatunga and the sought, after Shoebill. The game includes African Elephant, Cape Buffalo, Topi, Zebra, Waterbuck, Roan antelope and Eland.
Other wildlife; antelope, duiker, oribi, bushbuck, and impala. The primates include olive baboons, vervets and the secretive blue monkey are seen during the day, and bushbabies are often seen during night drives. The Park now the Akagera's "Big 5" status by the re-introduction of the black rhino to join the already reintroduced large predators' leopard, hyena, side-striped jackal, and Lion.
Other Species in the National Park
Due to its wide variety of habitats, Akagera is a good bird watching (birding) site with nearly 500 bird species. The rare and elusive shoebill shares the papyrus swamps with other rare birds such as the exquisite papyrus gonolek and other water birds that inhabit the wetlands in large numbers.
Activities carried out in the Rwanda National Park include:
Game drives day
Boat Trip
Sport Fishing
Birding (bird watching)
Night game drives