6-days birding and Wildlife safari Rwanda is an exciting and memorable birding experience and wildlife Adventure as you will visit Nyarutarama artificial Lake, one of the convenient birding spots within Kigali City, then afterwards head to Akagera National Park best destination for bird watching and wildlife tour such as; African elephants, Cape Buffalo, giraffes, Zebras, Hyenas and several antelopes like; Bushbuck, Topis among others.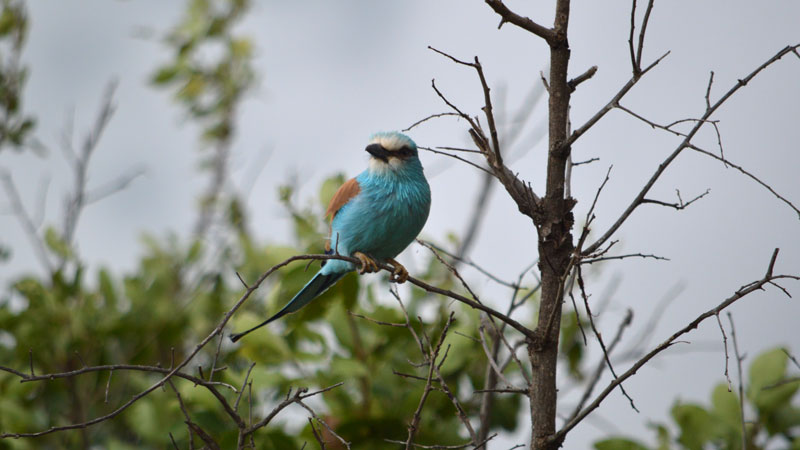 Detailed itinerary for 6-days birding safaris and wildlife Adventure
Day 1: Arrival at Kigali Airport
On arrival at Kigali International Airport in Rwanda, you will be received by one of our professional bird guides who will transfer you to check-in at the hotel. Depending on your arrival time, you will visit Nyarutarama artificial Lake, one of the convenient birding spots within Kigali city. This will give you an enjoyable introduction to some waterfowls like; White-faced Whistling Duck, Little Grebe, Common Moorhen, Yellow-billed Duck, Squacco Heron, Spur-winged Geese, Little Egret, Hadada Ibis, Black Crake among others. Different types of Weavers, Warblers, Cisticolas, raptors and many others.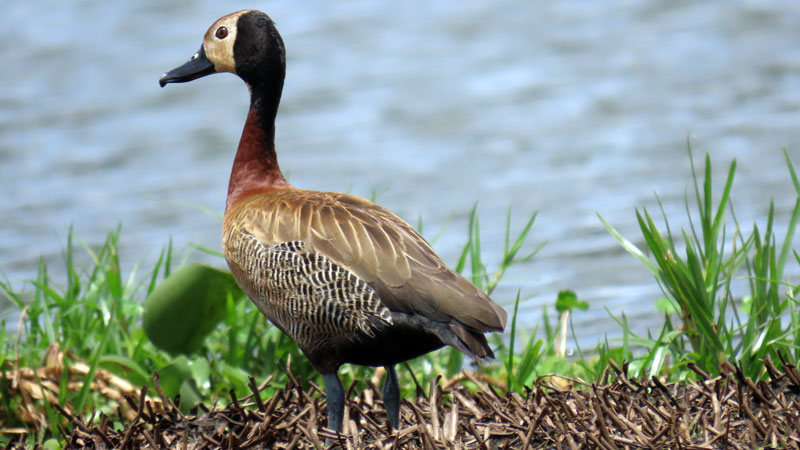 Day 2: Transfer to Akagera National Park for birding and wildlife safari.
Early morning breakfast, check out from Kigali, 110km drive towards the northeastern region to Rwanda's only savanna national park. Akagera National Park embraces a rich bird checklist of over 525 species. On the way to the park, you will be driving through Rice fields, cultivations, mountains and different Villages, where you should expect to encounter a number of birds like Palm Swifts, Black-crowned Waxbill, Common Bulbul, Village Weavers, Red-eyed Dove, Grey Heron, Cattle Egret and many more.
Through the Southern part of Akagera, you will check into the park, after a few minutes of registration on entry, you will straightaway start birding in the park. Driving slowly, from side to side the park is covered by woodland, wetland, some grassland and thickets, all this gives you the chance of sighting different species of birds like White-browed Coucal, Fork-tailed Drongo, African Grey Hornbill, Long-crested Eagle, Woodland Kingfisher, Red-necked Francolin, Blue-spotted Wood-Dove, Ross's Turaco, Eastern Plantain-eater with many others. You're also most likely to encounter a variety of wildlife which includes, elephants, buffalos, Giraffes, Zebras, Hyenas and several antelopes like Bushbuck, Topis, Oribis and waterbucks, Check In to the lodge for lunch and prepare for the evening Sunset cruise at lake Ihema.
After lunch with your guide you can choose to do a brief game viewing towards lake Ihema, many chances of sighting Hildebrandt's Francolin, Bare-faced Go-away-bird, Speckled Mouse-bird, African Gray Hornbill, Broad-billed Roller. You shall do a boat trip along the shores of Rwanda's second-largest Lake after lake Kivu. Here you're most likely to get great aquatic bird sightings, a single nicest way to explore the park and you can also spot some of the wildlife which does live in the waters of Ihema lake. This will give you a great experience to increase the birds and animals counts you observe during the safari game drives.
Day 3: Full day Birding safari in the Southern part of Akagera National Park
Early morning breakfast, you shall start your morning game drive as early as possible, before the day gets hot, many birds are very active and most of the animals feed on wet grass and hide in shades when the sun gets hotter, you will try a number of different spots for specific bird species, like Crested Barbet, Red-faced Barbet, Black-crowned Tchagra, Moustached Grass-Warbler, Tabora Cisticola.
Several animals like lions, Leopards, antelopes like Water-bucks, Oribis, Bushbuck and some Giraffes, Buffalos. As it gets hotter you will drive back for lunch at the hotel and get set for the evening game drive. After lunch, you shall drive to most of the trails that you didn't cover in the morning, in search of more birds and animals.
You can choose to do a night game drive to look out for the nocturnal birds like Black-shouldered Nightjar, Swamp Nightjar, Square-tailed Nightjar, Verreaux's Eagle-Owl, African Scops-Owl with many others night hours also highlights chances of sighting Leopard, Hyenas and lions trying to hunt. Note: night game drive, is an activity paid differently from park entry and it's conducted by the park authorities.
Day 4: Birding in Akagera and Transfer to Kigali
After early morning breakfast, you shall check out from the lodge with your packed lunch, you will drive while scanning through the woodland towards the Northern part of the park, providing you chances of sighting different birds and animals at your pace. In the southern part of Akagera National Park, you will have a game drive in the Kilala plains, this is the park's most exciting place for animal viewing.
Because of its savanna, most antelopes use it as their mating grounds and other grazers enjoy the short grass, therefore the predators like Lions, prefer this area due to plentiful prey. You shall search for birds like Red-capped Lark, Zitting Cisticola, Trilling Cisticola, Plain-backed Pipit, Plain-backed Pipit, Cardinal Quelea, with other many ground birds. Transfer to Kigali and check in to the hotel.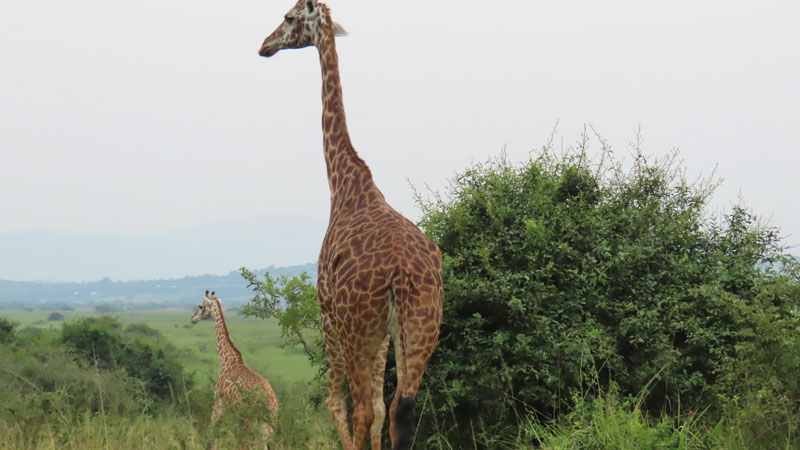 Day 5: Morning Birding in Nyabarongo wetland and evening birding Umusambi Village
Very early morning breakfast, you shall drive 35 kilometers south-east of Kigali city. Nyabarongo wetland has vegetation dominated by the papyrus in the zones that are permanently flooded, here you shall try to look out for the shy White-winged Swamp Warbler and Papyrus Gonolek. After birding the edges of this wetland, you will drive back to the city center for lunch.
After lunch will drive straight to Umusambi village for your evening birding, this is a beautifully restored wetland area, providing a sanctuary for over 50 endangered Grey Crowned Cranes saved from the illegal pet trade. This place also resides many other unique species of birds like White-collared Olive back, Fawn-breasted Waxbill, Green-winged Pytilia, African Firefinch and Lesser Honeyguide. After checking out most of the walking trails, you shall be driven back to your hotel in Kigali.
Day 6: Transfer to Kigali international airport for your flight
Depending on the time of your flight, you can get a chance to visit the genocide memorial before you're dropped to the airport for your check-in time.
6-days birding and Wildlife safari Rwanda Includes
Park fees(For non-residents)
All activities(Unless labelled as optional)
All accommodation(Unless listed as upgrade)
A professional driver/guide
All transportation(Unless labelled as optional)
All Taxes/VAT
Meals(As specified in the day-by-day section)
Drinking water(On all days)
6-days birding and Wildlife safari Rwanda Excludes
International flights (From/to home)
Roundtrip airport transfer
Additional accommodation before and at the end of the tour
Tips(Tipping guideline US$10.00 pp per day)
Personal items(Souvenirs, travel insurance, visa fees, etc.)
The government imposed an increase in taxes and/or park fees