Queen Elizabeth National Park covers 2.056 km of land; it is located in the South of the Rwenzori Mountains, bordering Congo and includes two lakes, George and Edward that are connected by the famous Kazinga Channel which supports the experiential boat cruise. It is an ecosystem made of wetland and open savannah areas, at an altitude of 910m on Lake Edward. A World biosphere reserve with a RAMSAR wetland site, the park is situated astride the equator and located in southwestern Uganda lying on the base of the rift valley between Lakes George and Edward.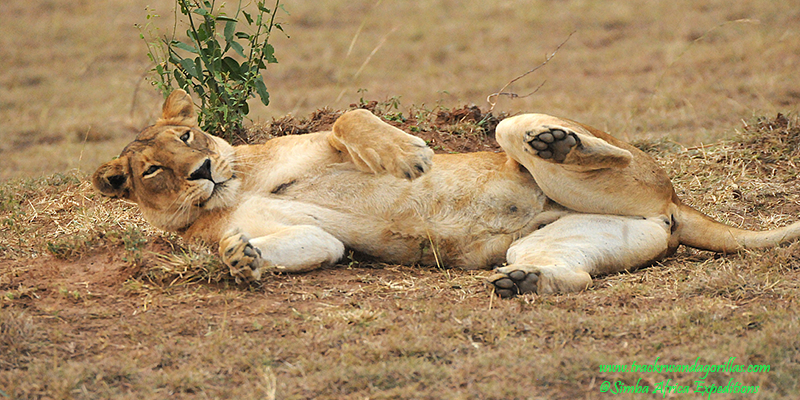 Queen Elizabeth National Park borders the Democratic Republic of Congo on its western side. It is sometimes referred to as the pearl of Africa. In Uganda Queen Elizabeth National Park is basically known for the big four animals that are: Elephants, Lions, Buffaloes and the Leopards. It is also classified as an Important Birding Area (IBA) by Birdlife International.
Species found in Queen Elizabeth National Park
Queen Elizabeth records a large number of animals, including 95 mammal species like some big five and other respectively-Elephants, Lions, Buffaloes, Rhinos and Giraffes- leopards, Uganda kobs, jackals, spotted hyenas) and 10 primate species, like chimpanzees, vervet monkeys, blue monkeys, red-tailed monkeys, black and white Colobus, and olive baboons. The list of birds is of 606 species recorded, possibly the highest in any African National Park and in the world.
ACTIVITIES IN QUEEN ELIZABETH NATIONAL PARK
The famous launch trip along Kazinga Channel for a wonderful wildlife safari experience: expect to see hippos, crocodiles, buffaloes, elephants, bushbucks, warthog and lots of different bird species. Game drives in Kasenyi Plains (Northern Sector) and in Ishasha (Southern Ishasha sector, searching for the typical lions climbing the fig's trees). Chimpanzee tracking in Kyambura Gorge and bird watching in Maramagambo Forest.
ACCESSIBILITY TO THE NATIONAL PARK
This park can be accessed easily from Kampala, Uganda's capital city. The tarmac road from Kampala via Mbarara town-Bushenyi leads to the park center passing a mere 22 km from Mweya Peninsular, the main tourism hub. Approaching the Park from the south via Mbarara covers a distance of 420 km while the north through Fort Portal covers a total of 410 km.
En route to the famed park, visitors have the opportunity to enjoy short detours to Lake Mburo National Park, Kibale forest National Park renowned for Chimpanzee tracking. The park can also be accessed from the south of Bwindi Impenetrable Forest National Park. Air travel: Charter flights can be arranged to a choice of airstrips at Kasese, Mweya and Ishasha.
ACCOMMODATION FACILITIES IN THE NATIONAL PARK
The park has quite a good number of different lodges i.e. ranging from budget to luxury that provide good services to clients and these include Mweya safari lodge (luxury), Jacana Lodge, Ishasha wilderness camp, Katara Lodge (Luxury) and Simba safari camp, Ihamba safari lodge, Ishasha Ntungwe river lodge, Kingfisher lodge, Savannah resort hotel, Enganzi lodge, Bush lodge, Savannah Resort Hotel (Mid-range), Mweya Hostel (budget), Ishasha river camp, Tembo camp (Budget).