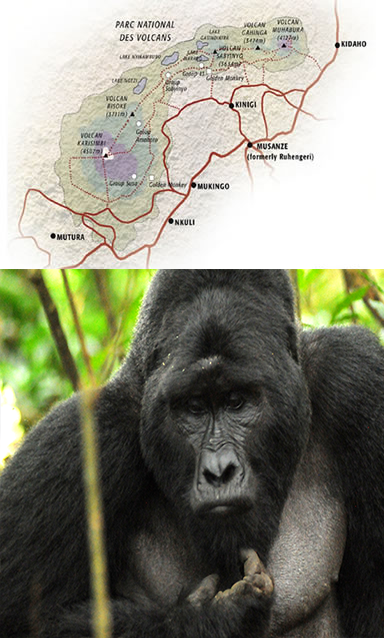 Parc National Des Volcans (Volcano National Park) was first gazetted in 1925, as a small area bounded by Karisimbi, Visoke, and Mikeno, intended to protect the gorillas from poachers. It was the very first National Park to be created in Africa. The park later became the base for the American naturalist, Dian Fossey, to carry out her research into the gorillas. She arrived in 1967 and set up the Karisoke Research Centre between Karisimbi and Visoke.
From then on she started spending most of her time in the park which is widely credited with saving the Mountain gorillas from extinction by bringing their plight to the attention of the international community. Volcanoes National Park is located in a small village called Musanze previously well-known as Ruhengeri, which is very accessible by public transport from Gisenyi or Kigali or from the airport.
Accessibility to Parc National Des Volcans
The drive to Volcanoes National Park is 2 hrs. hence one can do gorilla tracking on the same day and drive back to Kigali City after the trekking. You will be required to arrive at the headquarters of Kinigi, at the park entrance, by 7:00 am, therefore, if you hope to trek gorillas for one day, you have to wake up very early for your journey so that you are on time. However, there isn't any public transport from Musanze to the headquarters of the park at Kinigi.
Activities in Volcanoes National Park include.
Gorilla trekking.
Hiking Karisimbi volcano (3,800 m).
One day Mount Bisoke volcano hike.
Visiting Dian Fossey.
Visiting the twin lakes of Ruhondo and Bulera.