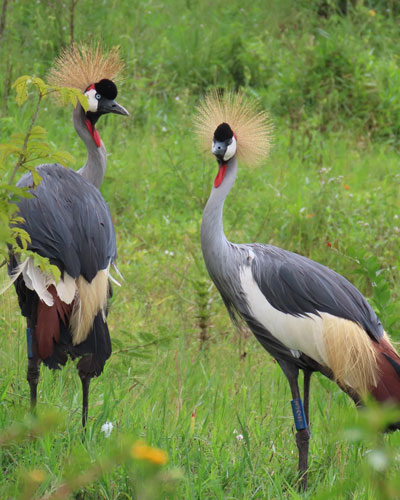 Kigali city birding adventure, with a size of 730 square kilometers, Rwanda's capital, features numerous birding sites, most of which include wetlands, woodlands, forests, and open grassland. Each of these sites comprises unique and beautiful bird species, of which there are over 200. The famous birding sites one can visit while in Kigali City include:
Umusambi Village
Umusambi village is Kigali's first wildlife sanctuary and nature reserve to rehabilitate and host the Grey Crowned Cranes that have been rescued from captivity. Apart from the Grey Crowned Crane, this reserve accommodates over 100 different species of birds, making it the best spot for bird watching in the city. With the excellent trail network, birders can access the grassland, swamp, bush, and woodland areas of this reserve, spotting a collection of birds like Green-winged Pytilia, Black-headed Gonolek, Little Egret, African Firefinch, and many others.
Nyabarongo River
is located in Kigali, which gives a good introduction to some local birds and a lot of conveniences.
Nyarutarama Lake location
South-east of Kigali is where this productive wetland is located; it includes swamps and marshes in parts of the floodplain of the Nyabarongo River. Around 50 bird species have been recorded in this wetland.